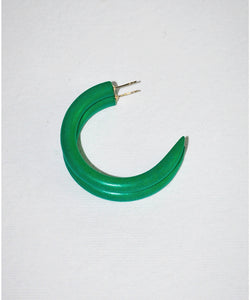 Binky and Lulu
Frog and Toad Small Hoop
Our Frog and Toad Hoops in Small - a vibrant celebration of friendship and nature, inspired by the beloved children's series. These earrings exude a playful charm, effortlessly elevating any ensemble with their lush, grassy green hue. With a touch of whimsical flair, the Frog and Toad Hoops in Small introduce a unique and versatile accessory to your collection, perfect for infusing your style with a hint of childhood nostalgia and woodland allure.
The vibrant grass green of our Frog and Toad Small Hoops captures the essence of the great outdoors, reminiscent of the lush meadows where Frog and Toad embarked on their delightful adventures. This lively shade adds a pop of color and joy to your look, invoking the spirit of friendship and camaraderie.
Available in three sizes - Mini, Small, and Large, you have the freedom to choose the ideal fit that complements your personal style. Featured in our timeless Classic design. These hoops embody our signature weightless construction with a uniquely pointed shape that sets them apart. Crafted from wood that you can effortlessly wear, it's the essence of woodwear – a versatile accessory suited for every occasion.
Mango Wood
14k Gold-Filled Posts
Designed by Binky and Lulu
Made by Filipino Artisans