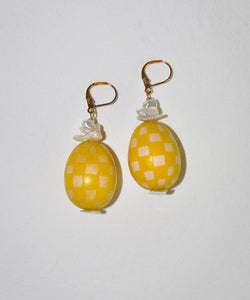 Binky & Lulu
Napa Drop Earring
Introducing our Napa Drop Earrings, a perfect blend of elegance and sunshine. These exquisite earrings feature an egg-shaped bead meticulously carved from lightweight mango wood, with a smooth and lustrous ivory base. The sunny yellow checkered pattern, delicately painted on the bead, adds a vibrant touch to these statement earrings.
Adding to their allure, the Napa Drop Earrings are adorned with exquisite keshi pearls that sit gracefully atop the egg-shaped bead. These natural pearls, with their unique and irregular shapes, add a touch of organic sophistication to the design, reflecting the beauty of the ocean.
The Napa Drop Earrings are a testament to craftsmanship and style, effortlessly capturing the essence of sunny days and coastal charm. The lightweight mango wood ensures comfortable wear, while the combination of ivory, yellow, and pearls creates a harmonious and eye-catching aesthetic.
Embrace the warmth of the sun and the grace of pearls with the Napa Drop Earrings, and let your style shine.